Let The Abbé House Inn be your destination for your special day!
Our wedding packages offers convenience, affordability and the comfort of knowing that everything can be set up the day before your wedding or early that morning.
The packages include reception and rehearsal location, lodging for 22 guests (either 1 or 2 nights), breakfast for your guests, and a large dressing room complete with wet bar and private bathroom area for the Bride and Bridal party.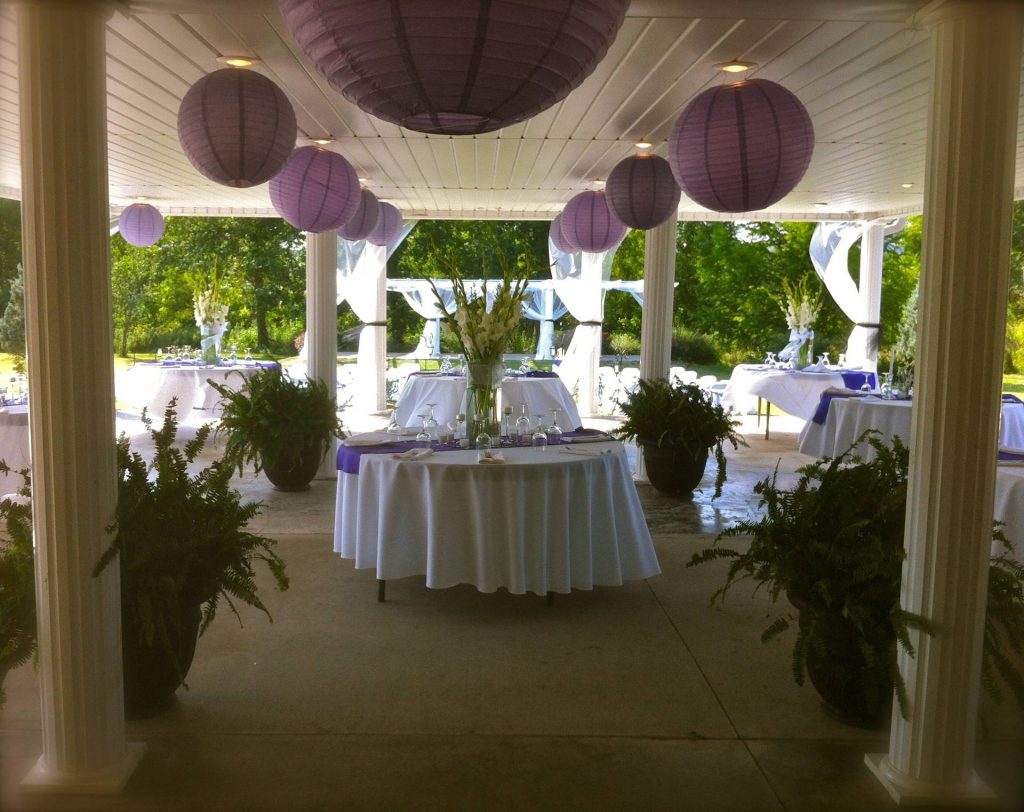 Included Amenities
Access to outdoor areas & activities on 8 acres of property & includes 2700 sq. ft. of verandas (can be used for wedding if there is inclement weather)
Large dressing room & full bath for Bride & Bridesmaids
Access to common areas of the 13,200 sq. ft. home
2 white pillars
1 double bird bath (6 ft. tall)
6 white rocking chairs on front porch
4 patio tables, 20 patio chairs
4 white banquet tables (two 8 ft., two 3 ft.)
14 white wooden folding chairs
4 pony tail palms (3 ft., seasonal)
Commercial ice machine, dishwasher, refrigerator, stove, BBQ grill, microwave, coffee pot
* 50% non-refundable deposit is required when booking weddings *
CELBURNE COUNTY IS A DRY COUNTY.
Any alcohol served at the wedding must be given, not sold, to your guests. The Abbé House Inn holds no responsibility for the sale of or consumption of alcohol. All liability falls onto the provider. The Abbé House Inn does not provide bar tending services.
Package Rates & Policies
Saturday Wedding/Friday Rehearsal/Catering
Availability begins at 3pm on Friday, all day Saturday
10 room rental on Friday & Saturday evenings
Southern Style Breakfast & Coffee on Saturday & Sunday
Saturday Wedding/Catering
Availability all day Saturday
10 room rental on Saturday evening
Southern Style Breakfast & Coffee on Sunday
Day Rate Wedding/Catering (no lodging)
Availability on day of the event, 9am-6pm
Day Rate Wedding (no lodging, no catering)
Availability on day of the event, 9am-6pm
Wedding may begin any time between 9am and 3pm
Event must end by 6pm
3 hour minimum, $100 per each additional hour
Catering Information
If catering is included in your wedding package
Catering is for up to 120 guests ($19/per each additional person)
Choice of menus available, please make arrangements with Chef
Optional catering during Friday Rehearsal ($19/person, 20 person min)

Final number of guests must be confirmed 2 weeks prior to event

Entertainers' meal should be included in final number
Should actual numbers of guests fall below that of the final confirmed number, the charges will be based on the final confirmation given 2 weeks prior to the event
Services & Amenities Not Included
Bar Services – you may bring your own bartender
Photography
DJ, music, or sound equipment
Flowers, sashes
Casual labor for off loading of goods, flowers, decorations, equipment, etc
Decoration of the wedding area or special decorations
Typing of seating plans, menus, or individual name cards
Under plates, overlays, runners, linens
Chairs (in addition to what is listed above), chair covers
Cakes/cake cutting